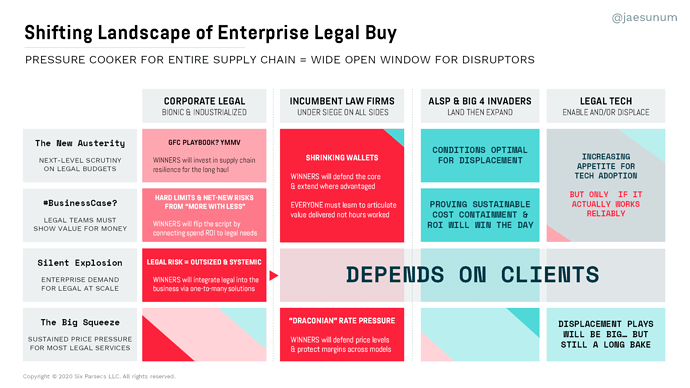 Hello everyone, I'm Jae, the founder of Six Parsecs (research + insights for legal markets). I was global head of pricing strategy for Baker McKenzie & director of strategic planning for Seyfarth Shaw. Mostly people know me for tweeting lots of emoji

and writing looong blog posts with lots (and lots) of

charts. I split my time across (1) market insights & strategic consulting for #BigLaw and (2) startup advisory for #LegalTech.

Recently I wrote this 5-part series on Legal Evolution called #GreatExpectations for the #GreatReset about post-pandemic #legalmarkets and also made this lumascape/market map. People have been very kind in reading and commenting, and some have expressed interest in discussing the series further.

I will be answering questions live here in this thread for 3 hours on:
2021-02-18T20:00:00Z.

Ask me anything… about #LegalTech (+ #KTech / #RegTech) or #LegalBuy (mostly in enterprise law markets) and I will do my best to answer Qs & share resources.

Thanks to NY Legal Tech Meetup for hosting & @clang for moderating!!